RP10 SE SMART CARD READER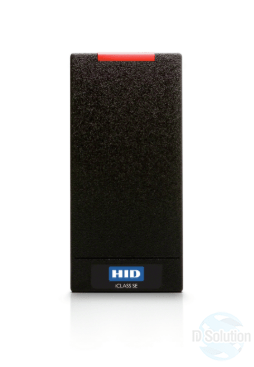 Ключевые особенности:
Non-contact smart card and Proximity-card reader with a distance of reading up to 7.6 centimeters (reading only).
Key features:
Operation in the 13.56 MHz frequency coverage. 
Multi-level security (SIO data model).
Mutual CHAP authentication of the reader and iClass SE card.
The use of Open Supervised Device Protocol (OSDP) together with Secure Communication Protocol (SCP). It increases the level of operational security of readers and provides a transparent mode of data transmission. 
Information security on the card with 64-bit authentication keys (the reader can store up to 11 such keys, they protect certain areas of smart card storage). 
Card information encryption using DES and Triple DES algorithms. 
The opportunity for simultaneous support of 125kHz HID Prox, Indala, AWID и EM4102 standards in multiClass SE RP10, RP15, RP30, RP40, RPK40 models. 
Wiegand output for connecting card readers to access control systems. 
The reader can be configured for transmission of the card's serial code in Wiegand 26-bit, 32-bit, 34-bit, or 40-bit format for Mifare card reading. 
Intelligent system of power consumption optimization.  
Compatible with NFC smartphones and can use them as identifiers.
Technical specifications:
Interfaces

Wiegand output, Clock and Data

Power voltage, Vdc

5-16

Load current (normal operation), milliampere

60

Load current (energy-saving feature), milliampere

35

Max. consumption current, milliampere

100

Temperature diapason,

° C

от -35 до +65

Dimensions, mm

48 x 103 x 23

Weight, gram

114