TPS980T FACIAL RECOGNITION AND TEMPERATURE CHECK ACCESS POINT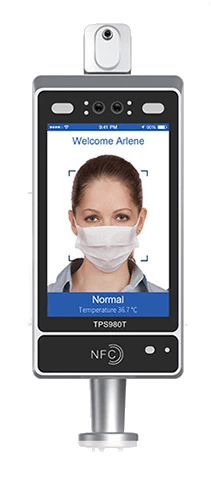 Ключевые особенности:
High-precision remote temperature measurement with 0.3 degrees of accuracy, and face recognition. The speed of body temperature check and recognition is 1-2 seconds. It is easy to integrate with the diagnostics monitoring and control system in the office or at the entrance of the company. It helps to perform express diagnostics of staff personnel's health. Merusoft Tracking software manages the terminal operation, registers the time of entry and exit of employees, visitors, and other individuals with symptoms of contact illnesses.
Technical specifications:
Processor unit 

Dual-Core 1.8GHz+Quad-Core 1.4GHz

Operating system

Android 7.1

Memory storage

4GB DDR, 16GB eMMC

Display console

8-inch, 800*1280

Sensor

IR sensor

Front camera

Dual-lens camera

(RGB + IR), 2MP + 1,3MP

Non-contact card reader

(optionally)

ISO14443  A / B Type, Mifare, responses to  ISO18092

Sim tray slot (optionally)

1

Lines of communications

Ethernet / WiFi / Bluetooth

LTE (

optionally)

Temperature measurement

Accuracy

± 0,3 °, the best use distance is 0,5-0,7 meters.

Ports 

1 port of direct current,

1 RJ45, 1 micro USB, 1 Wiegand, 1 RS485

Audio

Digital audio dynamics, Microphone

Power supply source 

12V/2A,POE(Optional)

Overhanging support (optionally)

Wall bracket, pay-gate bracket

Dimension (mm)

272 (L) * 135 (W) * 30 (H)

Temperature of operation

от 10° до + 45° C