NB-IOT MODULE RAK 2013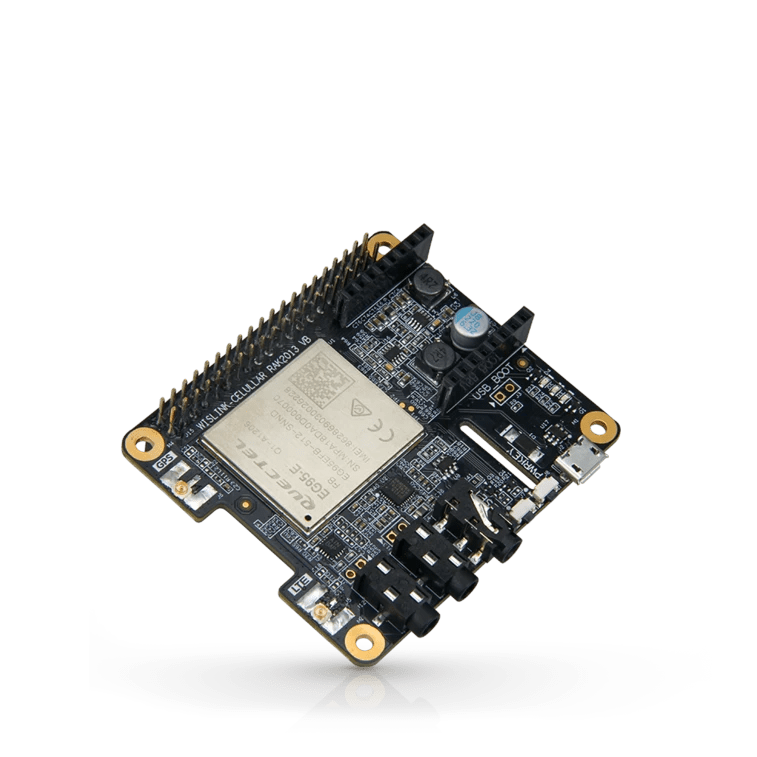 Ключевые особенности:
the module support for the SIM-cards of mobile operators
Nb-IoT
LTE CAT-M1
LTE CAT1/ CAT4
Support for both nano and eSIM
Built-in amplifier and codec for full-fledged VoIP support
Fully compatibility with Raspberry Pi 3B +
Integrated mikroBUS header
Extra GPS support (BG96 only)
Built-in EEPROM for storing autoconfiguration settings
RAK2013 Pi HAT is a communication module compatible with Raspberry Pi 3B +.  It is provided to connect to a wide-area net with energy-efficient (LPWAN) IoT devices. RAK2013 Pi HAT is equipped with several configuration options for its onboard radio including Quectel BG96 / EG95. It also supports the following standards: 4G / LTE, Nb-IoT, CAT-M / CAT1 / CAT4 Cellular. The module supports voice transmission via LTE (VoLTE) in case of carrier net with required HD calls. It is possible due to the built-in audio amplifier and codec. The necessary connectors for each operation type are conveniently arranged on one plate's side. It allows easy access to them. 
There is a MikroBus highway provided. It is suitable for such applications as environmental monitoring, presence positioning, and others that need a connection to cellular networks. A wide range of functions is accessible due to the wide range of supported sensors. 
Comparison table for EG95-E and EG95-NA:
| Frequency | EG95-E | EG95-Н.А. |
| --- | --- | --- |
| LTE FDD | В1 / B3 / B7 / B8 / B20 / B28A | В2 / В4 / В5 / В12 / В13 |
| WCDMA | В1 / В8 | В2 / B4 / B5 |
| GSM / EDGE | B3 / В8 | |
| Area | ЕМЕА | North America |
| Transport operator certification* | | Verizon / AT & T / T-Mobile / Telus / US mobile communications/ Rogers |
| Regulatory certifications* | GCF / CE / RCM / FAC | GCF / FCC / PTCRB / IC |
| Other certificates* | WHQL | WHQL |