IDS-B6 BEACON WRISTBAND FOR HOSPITALS AND HEALTHCARE ESTABLISHMENTS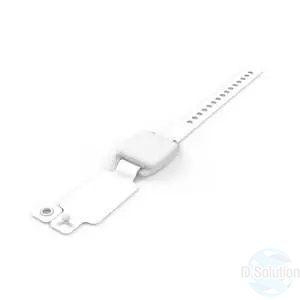 Цена:
1180 rubles ($15,96 USD)
Ключевые особенности:
The IDS-B6 beacon wristband is a new generation beacon. It operates using Bluetooth 4.0 hardware platform and supports the iBeacon standard. You can configure the settings via the BeaconSET application.
The IDS-B6 uses a magnetic switch design to turn the device on/off. The beacon wristband body provides water resistance up to IP66. One-use of a removable wristband can increase the device operation. In addition, it can be widely used for staff tracking in medical centers, monitoring activities in hospitals, healthcare establishments, etc.
Technical specifications:
| | |
| --- | --- |
| Body-color | |
| Transmitting interval | from 100msec to 10 seconds. |
| Transmitting power | -30dBm, -20dBm,-16dBm, -12dBm, -8dBm, -4dBm,0dBm,4dBm |
| Working applications | BeaconSET+ for Android/iOS |
| Transmitting radius | |
| Antenna | |
| Battery model | CR2032, working time is up to 9 months, removable |
| Operating temperature | -20°C to +60°C |
| Dimensions | 36.2 * 26.1 * 7.2 mm |
| Weight | 7 g |